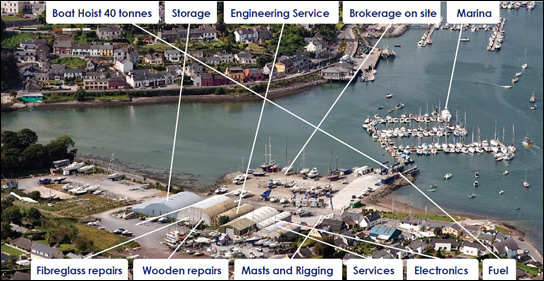 Crosshaven Boat Yard established in 1961 originally specialised in building commercial fishing boats and over the years went on to build famous yachts like Gypsy Moth V, Saint Brendan and a series of Moondusters up to the early 80's.
The marina and travel hoist were added in 1979 along with expanded storage facilities. Since then the "Yard" has concentrated on all aspects of the repair, care and maintenance of both commercial and pleasure boats.
In 2020 Crosshaven Boatyard was taken over by the Green Rebel Group which has given the boatyard a new lease of life.
Ongoing investment will make it one of the most modern boatyards in Ireland.
"As Irish distributors for Dufour Yachts of France, we offer top quality cruising and racing yachts from 32 to 61 feet.
We are also agents for the Spanish built Rodman range of motor cruisers, fishing boats and flybridge cruisers from 26 to 74 feet.
We also offer the more traditional British built Seaward range of motor cruisers from 19 to 42 feet.
Our Brokerage service consistently achieves top results for our large client base. We have joined forces with Network Yacht Brokers International which gives us access to a large number of boats and potential customers across Europe and beyond.
We offer the best professional advice whether you are a buyer or a boat owner.
We are situated just a stone's throw away from the Royal Cork Yacht Club the oldest yacht club in the World. Cork Airport is only twenty minutes, drive away and Dublin Airport is under three hours away."